Altonsoft
Copyright (C) 2013 Altonsoft. All Rights Reserved
Services

Services
Computer Repair and Troubleshooting
Sluggish computer. Blue screen. PC won't boot or restarting. Corrupted system files or registries. These are the common problems customers experience when they contact us for support. We specialize in computer hardware and software repairs and troubleshooting. After servicing, your computer will definitely run as good as new. Call us now!
Virus Removal and Protection
We remove all kinds of viruses, trojans, rootkits, malwares, worms and the like from your PCs and laptops using the latest and the best anti-virus removal tools in the industry. Be protected and be secure.
Data Recovery and Backup
Need to recover lost or accidentally deleted files and documents? Be it a picture, a movie clip, a music file, a worksheet, a word document, etc., we'll restore it as if it hasn't been deleted at all. We also do backups of your important data.

Sales
We assemble brand new computer units according to your specifications and budget. Computer packages available at a price you can appreciate! To order or request a quote, contact us now.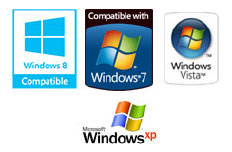 The Windows logo are trademarks of Microsoft Corp.